Rules for understanding the information on the beer label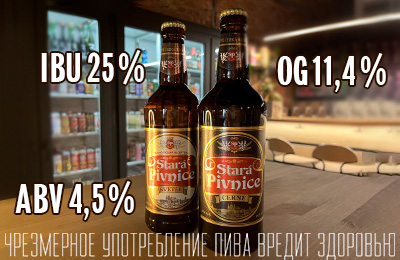 How do you usually choose a beer, what do you pay attention to first? The design of the label is an important component. Colorful or, on the contrary, minimalistic, it attracts attention and disposes to purchase. The information on the label can also tell you a lot and even help you make a choice!
As a rule, the main characteristics of beer are given in the form of abbreviations: ABV, IBU, OG. We will share with you a description of the most famous indicators:
ABV (Alcohol by Volume) – the degree of strength of the beer. It is stated as a percentage (on average it is 4-5%) and indicates the level of alcohol concentration in the drink. For example, in Session Blond Ale, the ethyl alcohol content is 5ml per 100ml of beer and is indicated as "Alcohol content 5%".
2. IBU (International Bitterness Units) – an international scale of bitterness of beer from 0 to 100. Indicates the degree of hop resin content, which imparts bitterness to the drink. If you do not like very bitter varieties, then choose a beer with a value of 15-25. The higher the IBU, the more bitter the hop drink tastes.
Light lager "Krynitsa Classic" has a mild aftertaste and IBU 13, while the saturated Sabro IPA has IBU 33.
OG (Original Gravity) is the initial density of the beer. It is estimated before fermentation with a hydrometer. The density indicates the percentage of solids in the beer. It affects the taste of the hop drink, its richness and strength. For example, traditional dark lager Stara Pivnice Cerne has a density of 11.4%, while the percentage of density of expressive beer Porter 8/20 is 20%.
Before you buy a particular beer, study the label carefully. The internationally accepted abbreviation will tell you about the taste of the beer even before you try it. It's hard to make a mistake, the main thing is to read and understand! Now you can easily choose the hop drink that is right for you.