"Krynitsa Classic" – the return of the beloved classic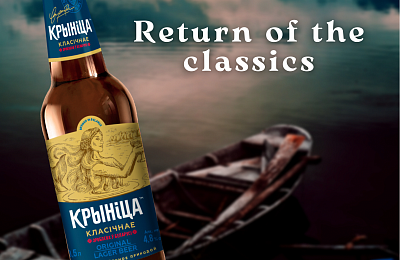 Mysterious, alluring, long-awaited – meet "Krynitsa Classic" with the charming mermaid on the label!
Classic is always a reliable and time-tested choice. That is why "Krynitsa" is not just a Belarusian beer, one of many, but a true embodiment of the folk traditions and the spirit of the Belarusian culture.
The label design, unique for the Belarusian market, best conveys this message and expresses the values of the product: a beautiful girl, who lives in the ponds, close to the common Slavic image of the mermaid, emphasizes the ancient mystery of Belarusian nature, creates a special mystical aura around the drink.
The taste of "Krynitsa Classic" still remains the same recognizable and favorite: the light lager has the golden color of the drink, the dense snow-white foam cap, and the rich flavor. Pure harmonious taste with moderate bitterness of hops.
The drink is rightly considered a favorite for all beer consumers!
Already in May, look for the long-awaited foamy drink in our brand stores.