How to combine beer and cheese?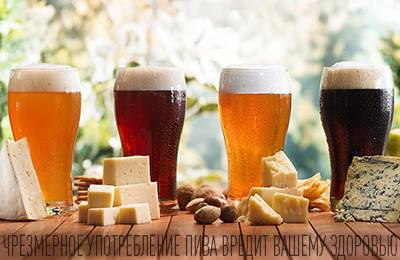 Is it good to drink beer with cheese? We are sure that you have asked yourself this question more than once – and today we have prepared a comprehensive answer for you!
Beer and cheese are a great gastronomic pairing, but you should choose it carefully. When choosing a cheese snack keep in mind the main rule: to create a perfect harmony of flavors beer and cheese should have flavors of the same intensity. For example, to a light drink fit a gentle, not too rich snack. For a beer with bright flavors it is better to serve the same cheeses – tart, salty, aged.
For traditional lagers, for example, Stara Pivnice Svetle, Brauberg perfectly suit processed cheeses – creamy, with mushrooms, bacon, as well as soft Brie or Camembert cheese. Lighter varieties are characterized by hop and malt notes in the flavor, as well as a slight bitterness. Appetizers will gently contrast with the light bitterness of the beer, giving it interesting nuances.
Strong Porter 8/20 has a complex, bright flavor. It reveals itself with rich nuances of hops and malt. That is why you should choose the same cheeses for Porter beer. Hard ripened Parmesan and spicy cream cheese of Roquefort type are considered to be the perfect match for Porter. The rich bouquet of the foamy drink perfectly balances the salty taste of the appetizer.
The unfiltered wheat beer KULT Weissbier has an intense spicy aroma with tart and sweet notes. The variety has a mild, balanced flavor, so the cheese snack should be just as pleasant and unobtrusive. Cheese cheeses, Mozzarella, Riccota, and Chevrette's goat cheese go well with the wheat varieties of foam.
A honey amber APA beer and a bright, tropical Sabro IPA from Beer Map make a perfect tandem with blue mold cheeses! The powerful aroma of Dorblue cheese, Gorgonzola perfectly complements the bright hop notes and tart bitterness of the ales. Also craft beers APA and IPA go well with Cheddar, Gouda cheese.
There are a great many styles of beer, as well as varieties of cheese! This opens up a huge scope for gastronomic experimentation. Try to combine your favorite foamy drink with different cheeses, don't limit yourself to one sort. Add other snacks to the cheese plate: crackers, bread sticks and nuts. Then the familiar taste of beer is sure to play with new, bright colors!