Foodpairing: which dishes and Craft Beer Chart beers would make a perfect pairing?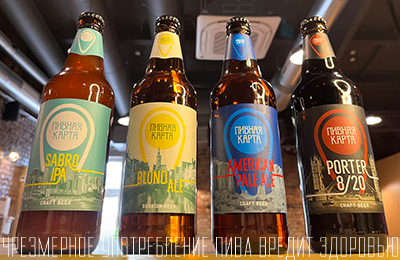 Entourage and snacks are important components of a beer tasting. Until a few years ago, most beer drinkers were not faced with the question of what dish would best harmonize with different varieties. Most often it was a simple snack – nuts, chips and crisps. With the onset of the Kraft Revolution there was a radical change in trends in the combination of food and beer.
Today we're going to talk about food pairing, in which the flavor pairing of beer and snacks is selected based on similarities or contrasts. Foodpairing does not imply strict rules; this method is close to art, but it's based on the scientific approach. The essence of the trend is that food and drink are combined on a molecular level. Certain dishes are able to emphasize the best characteristics of beer, as well as to complement and reveal the taste of beer, giving it completely new shades.
We suggest picking up the perfect gastronomic pairing for your favorite sort from the Craftsman collection "Beer List". Friends, are you ready to go on a journey? So, let's begin….
"Beer Map. Sabro IPA" has a pronounced flavor profile, well conveying aromas of mandarin, coconut, tropical and stone fruit, hints of cedar. So what to drink the unfiltered variety with?
A spiced fried fish, such as curry, pairs well with Indian ale. Add some lemon juice or soy sauce to the finished dish to bring out the Sabro's delicate flavor.
Try a foamy drink with fruit. The beer perfectly picks up the base flavors of apricot, grape, kiwi and coconut.
The expressive variety "Beer Map.Porter 8/20" surprises with complexity of flavor, elegant aromatics, and thick creamy foam. What snacks would go with a rich, robust Porter?
Dark chocolate, brownie cupcake will perfectly accentuate and complement the caramel and coffee notes of the beer.
Porter, as a style, carries a lot of "roasted" nuances in the flavor. Therefore, red meat would be a great combination option. For example, beef steak, pork or lamb kebabs.
"Beer Map. Session Blonde Ale" is a refreshing, clean beer with spicy notes and fruity hints in the taste. Session Blonde Ale is characterized by high drinkability and light bitterness. Appetizer options for the light, fresh beer are as follows:
White poultry and seafood dishes, as well as fresh salads and herbs, will accentuate the spicy notes of the drink.
Mascarpone, soft goat's milk cheeses and herb cheeses will reveal the mild bitterness of the session beer. The appetizer is best served with unsweetened crackers.
"Beer Map. ARA" is brewed in the best traditions of the style. The blend of three types of selected malts reveals the characteristic bitterness of hops and fruit bouquet with citrus notes. Perfectly selected snacks accentuate the bright nuances of the beer:
APA perfectly complements the meat dishes. The bitterness in the taste of beer will excite your taste buds. Juicy kebabs and sausages cooked on fire will be a perfect match for it!
Beer pairs well with fresh or grilled vegetables: peppers, eggplant, broccoli and zucchini.
Foodpairing is a new word in the world of food and drinks. Beer produced by OJSC "Krynitsa" is great on its own. Therefore, no matter what snack you prefer – the unique taste and high quality of craft beer varieties "Beer Map" will make your day bright and memorable. Try it and enjoy it!