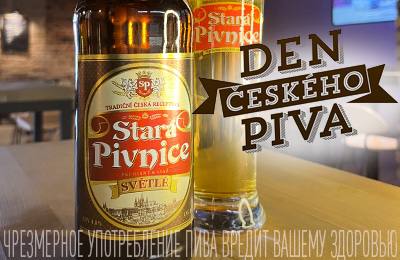 On this day, September 27, every year Czech Beer Day is celebrated. Thanks to thousands of years of history and centuries of tradition, the Czech national beer is highly valued all over the world! Whoever has tasted real, high quality Czech beer even once cannot fall out of love with this drink and forget its unique taste!
So why is Czech beer so popular? The secret of success lies in the observance of centuries-old traditions.
The first known "brewery" was the Brno brewery, mentioned in 1118. At that time, in the 12th century, beer production expanded so much that beer was brewed in absolutely every home. Later the first breweries appeared in Bohemia – then the breweries. The industry was actively developing, so in order to improve it the first European "brewing school" was created.
The Bavarian brewer Josef Groll brought world popularity to Czech beer in 1842. His new type of Pilsner beer became popular throughout Europe and the USA. In the 20th century many Czech breweries went bankrupt, but after the economic recovery brewers decided not to modernize production and continued to use classic brewing techniques.
It is impossible to calculate exactly how many varieties of beer there are in the Czech Republic: every corner of this country brews its own beer according to unique recipes.
Minsk brewing company OJSC "Krinitsa" has created a recipe for beer in the Czech tradition – Stara Pivnice Svetle lager.
Stara Pivnice is brewed from selected raw materials: aromatic Zatecky hops, Vienna malt and yeast. The beer has a warm golden color and delicate flavor, characterized by hop and fruit aroma. Pleasant beer bitterness smoothly transitions into a long soft aftertaste. The drink has optimal for lager strength – 4,8% and density – 11,8%.
Tradition is something we are proud of, it's what allows us to produce only quality drinks for you, friends. Let's celebrate Czech Beer Day together!